Here's your chance to strut your stuff and show us at FLOAT just how amazing you are at balloons! Take part in our weekly contest for prizes through May and one lucky person is going to win a $500 educational package from the FLOAT Foundation!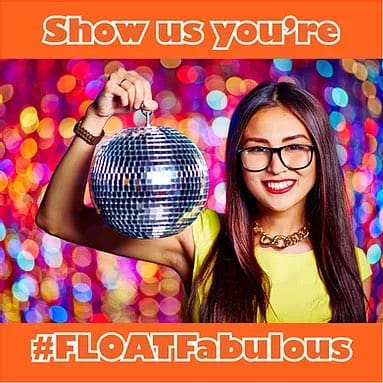 Here's what you need to know:
1. Anyone who does balloon decor may enter this contest. You do not have to be affiliated with the FLOAT Convention in any way to be eligible to win prizes.
2. This contest is 100% free of charge to enter. No one from FLOAT will ever ask you to pay a fee to enter.
3. Entries MUST be posted to Instagram, and must include the following elements:
A. It must be a new post, dated between 12:00 AM PT on April 12, and 11:59 PM PT on May 31, 2021, so you cannot use older posts in this contest.
B. The photo MUST include balloon decor that you or your company has created.
C. You MUST include the hashtag #FLOATFabulous in the actual post itself and not in the comment section below.
D. You MUST tag us @FLOAT2022 in the post as well.
4. Each week, running from 12:00 AM PT on Monday to 11:59 PM PT on Sunday, the FLOAT production team will select their ten (10) favorite entries for each week. The final entries will then be presented to the hosts of the FLOAT Network show "Working Wonders" and they will act as the final judging panel for each week. They will then announce a weekly winner on their show, airing every Wednesday night at 5:00 PM Pacific time in the FLOAT Facebook group.
5. In order to be eligible, you will be asked by a representative of FLOAT to submit your preferred email address. By doing so, you will be granting permission to FLOAT to add you to their general convention marketing list.
6. Weekly prizes will consist of one (1) free digital download from the FLOAT Foundation, worth $50.00 US. The winner will get to choose which download they wish to receive, based on the current selection available through the FLOAT Foundation's library. The current Foundation library can be found at this link.
7. In June 2021, one name will be drawn from all of our eligible entries collected during the course of this contest. The winner of that drawing will receive one (1) $500.00 US credit towards the FLOAT Foundation. This can be used either for current digital downloads offered in the library, on future classes being offered by the FLOAT Foundation, or a combination of the two. No substitutions will be allowed for prizes.
8. Entrants need to understand that this is a purely subjective contest. The decisions of our judges, the FLOAT production team and the ladies of "Working Wonders" are final.

9. This Instagram contest is not sponsored, endorsed or administered by, or associated with Instagram in any way. This contest is exclusively the product of FLOAT the Convention and the FLOAT Foundation.
10. The contest director (aka Steve) reserves the right to make any changes to these rules should something unusual arise. 
Good luck!