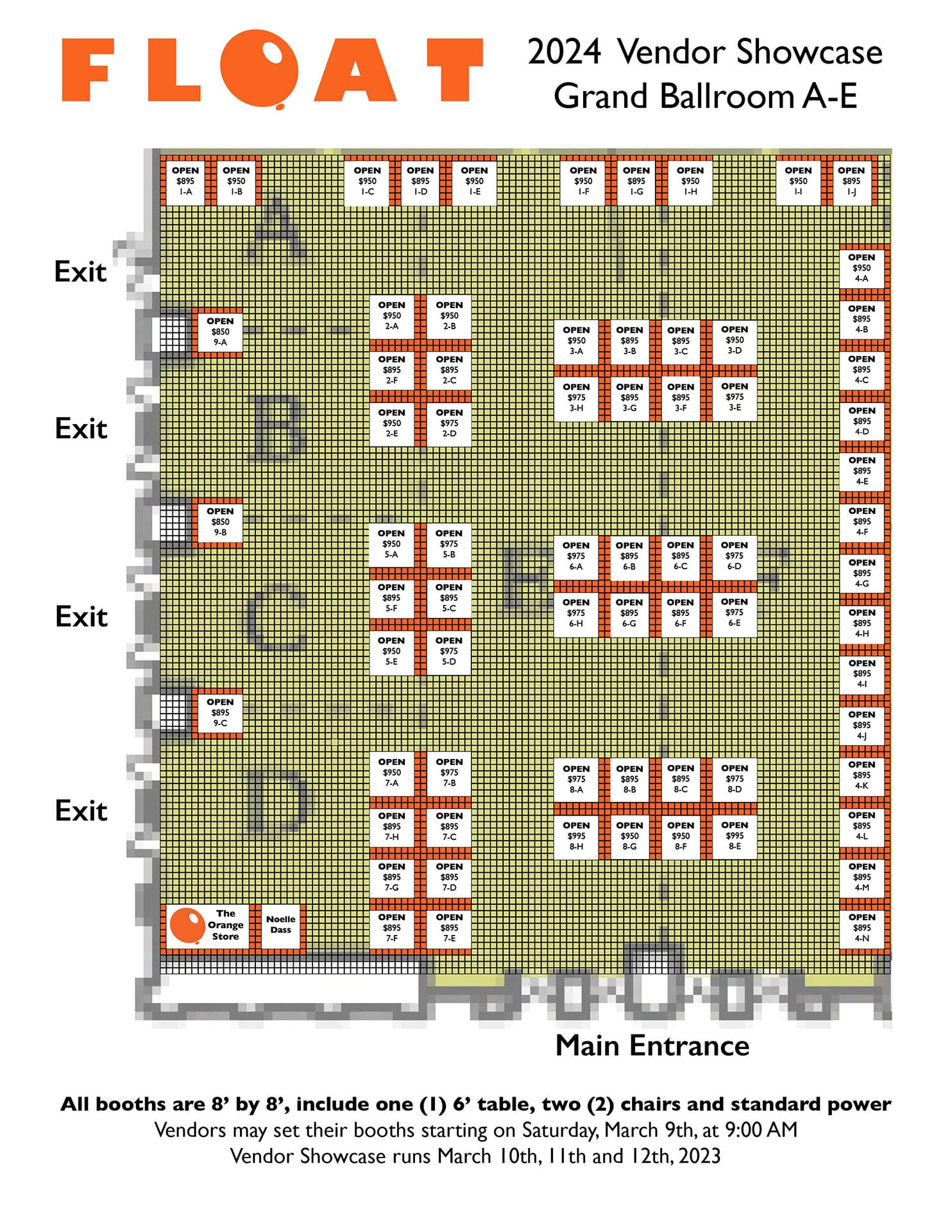 Please review the following information before registering your booth with FLOAT 2024
1. Vendor Showcase times are as follows:
Sunday, March 10th – 12:00 PM to 6:00 PM
Monday, March 11th – 11:30 AM to 6:00 PM
Tuesday, March 12th – 12:00 PM to 3:00 PM
Show times are subject to change.

2. Vendors can access the showcase to set up their booths from 9:00 AM to 9:00 PM on Saturday, March 9th, and will have time to finish on Sunday, March 10th, from 8:00 AM to 11:00 AM. All booths should be show ready by no later than 11:00 AM on Sunday.

3. 8′ by 8′ standard booths include ONE (1) registration without educational access, intended for your company representative to work your booth. This registration may not be transferred or used as a promotional giveaway or prize for your involvement in the convention. Additional staffing access can be purchased at a cost of $295 per staff person, again with no educational access granted.

4. Vendor registrations get the holder access to the Vendor Showcase, all evening social functions and the Designer Award Gala. They do NOT include educational access, which means vendors cannot attend classes nor receive an Academic FLOATBook as part of their involvement at FLOAT 2024.

5. All booths include access to power, but do NOT include access to wifi. That will need to be purchased through the hotel at an additional cost.

6. 8′ by 8′ booths include one (1) 6′ clothed table and two (2) chairs. Those vendors with double booths will receive two (2) 6′ clothed tables and three (3) chairs. Other styles of tables are possible, but require advanced notice and may or may not require an additional fee.

7. All vendors MUST strike their booths the evening of Tuesday, January 25th, 2022 by 6:00 PM. There cannot be any exceptions to this.

8. You are encouraged to email Steve@FLOATConvention.com or call (206) 450-5088 to confirm whether or not a booth is available before completing your registration for FLOAT 2024.

9. No one not registered for FLOAT 2024 is allowed to be in the Vendor Showcase at ANY TIME, including booth installation and teardown. Outside friends, family and visitors are not allowed to assist you with your booth if they are not registered for FLOAT 2024 in some way.

10. Hotel accommodations cannot be reserved at the Westin Lombard unless a booth has been secured for FLOAT 2022. Vendors will not be able to reserve rooms at the Westin Lombard until their booth sponsorship has been paid in full.

11. Shipping information will be available in October 2023.

12. No outside food or beverages are allowed anywhere in the convention space at the Westin Lombard. This includes the room of the Vendor Showcase. If FLOAT is financially penalized for your violation of this policy, you will be charged the fee assessed to FLOAT and may risk being banned from future conventions. Please plan accordingly and find a different location to serve your team meals or treats other than your booth.

13. If you have to cancel your booth at FLOAT 2024, you are entitled to a refund of 50% of the booth fee if you cancel or or before January 31st, 2024. Any cancellations after that date, including those out of concern for COVID-19, are not subject to any expectation of refund of any kind.

14. Digital sponsors are not entitled to any physical presence at FLOAT 2024, which includes a booth in the Vendor Showcase. Digital sponsorships may be upgraded, however, to move into an in-person presence at the convention.

WHAT DOES YOUR SPONSORSHIP INCLUDE?
Vendor Booth Sponsorship (8′ by 8′)
* One (1) 8′ by 8′ booth in our Vendor Showcase
* Access for one (1) staff member to non-academic access to the convention
* One (1) full color, 1/4 page advertisement in the FLOAT 2024 Convention Guide
* Placement of your company link on the Vendor page of FLOATConvention.com
* Access to the FLOAT 2024 attendee list (after the convention has ended, not prior)
* Unlimited quantities of promotional materials that can be added to the FLOAT Totes, handed out to each and every attendee
* Access to posting weekly ads and promotions in the FLOAT Convention Facebook group
* Announcement of sponsorship on all FLOAT social media platforms until the convention
* Inclusion of logo in the slide shows at Opening Night and the DAG
* Inclusion of logo on the back of the Convention Guide, Academic FLOATBook and FLOATation Pass Book
Access to upgraded sponsorship opportunities
Schedule for Vendor Booth Registration:
Academic Sponsors – Starting on February 13th
Returning Vendors from 2022 – Starting on March 2nd
Upgrading Sponsors – Starting on March 9th
New Vendors – Starting on March 17th